It's been twelve months since the official launch of our newest BRCGS-accredited warehouse, Frontier Park - and what an exciting twelve months it has been…
Since opening the doors to our Blackburn-based warehouse last February, we've significantly expanded our storage and distribution services, implemented a 24-hour operation and welcomed plenty of new clients on board - giving us a great deal to celebrate!
ACHIEVING THE HIGHEST BRCGS GRADE POSSIBLE
A particular highlight for Frontier Park has been achieving the highest possible grade of "AA" from the BRCGS. This fantastic achievement demonstrates our compliance with the strict food safety and hygiene standards required to store and distribute food-related products - and ensures peace of mind for our clients and end-consumers alike.
The BRCGS sets the international standard for food safety in over 130 countries worldwide and provides certification that demonstrates an organisation's ability to meet regulatory requirements for the safe storage and distribution of food products.
To have achieved the highest BRCGS grade possible was a huge success for our fantastic team over at Frontier Park, and we couldn't be prouder of their efforts.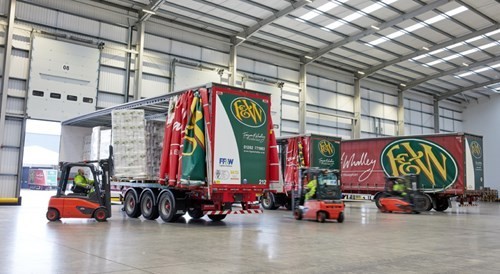 INVESTMENT IN NEW TECHNOLOGIES TO DELIVER A 24-HOUR OPERATION
We're also pleased to have implemented a 24-hour operation at Frontier Park, having invested significantly into new technologies and innovation.
As our newest warehouse, it felt important for the depot to reflect our commitment to growth - which is why we equipped it with a complete fleet of Linde Material Handling VNA forklifts. These have given our team greater manoeuvrability and increased the flexibility of our operations, due to their smaller size and lithium-ion batteries.
Behind the scenes, we've also been working on implementing a new Transport Management System. We strongly believe that by improving the day-to-day experiences of our team members, we can continue to deliver the excellent level of service our clients are accustomed to.
BESPOKE STORAGE SOLUTIONS TO SUIT OUR CUSTOMER'S NEEDS
Finally, Frontier Park has provided us with over 200,000 sq ft. of warehousing and, alongside our new racking facilities, has enabled us to expand our services and welcome several new clients on board.
Having integrated seamlessly into our distribution network, Frontier Park has allowed us to streamline our processes, and we're exceptionally proud of the positive impact this has had on our operations. It's a real source of pride for the Fagan & Whalley family to reflect on how much the warehousing side of our company has grown over the last few years.
If you'd like to join us on our journey and discover how we can help you with your storage, transport and distribution requirements - get in touch with our team today on 01282 771983.